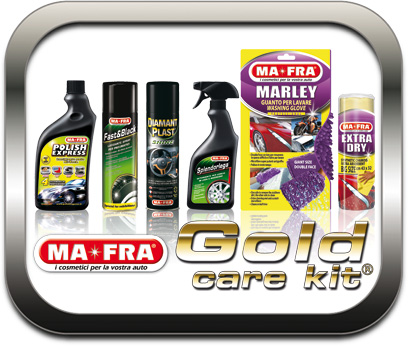 Gold

Care Kit ®

Gold Care Kit® is a kit dedicated to the wellbeing of your car created by MA-FRA S.p.A. exclusively for Mediashopping!

Following treatment with the products found in the Gold Care Kit®, your car will be like new; exceptional cleaning and shine, together with a fantastic and unique SILK EFFECT.
MA-FRA will surprise you so much you won't want to get out of your car again!

Allow yourself to be transported to the world of ecological shine by MA-FRA!


Polish Express®
POLISH EXPRESS® is the revolutionary polish by MA-FRA, based on nanotechnology, used the same as you would shampoo! With POLISH EXPRESS® you can test a new, tireless way of polishing your car as you wash it, leaving you truly breathless!

Dilute POLISH EXPRESS® 1:10 with water and, using its MARLEY glove, pass it over your vehicle in an even manner. Then rinse: POLISH EXPRESS® will clean and seal the pores on the bodywork, really protecting your car from bad weather and pollution!
POLISH EXPRESS® in fact, guarantees a treatment comparable with that of traditional wax in a tub, but without the fatigue and in just ten minutes!

Use POLISH EXPRESS® regularly and give your car the four, fantastic nanotech effects:
POLISH EFFECT for a unique shine;

LIQUID WINDSCREEN WIPER EFFECT for maximum safety during rain;

MIRROR EFFECT to give your car the same appearance as when you bought it, unique and unmistakable;

SILK EFFECT for a truly smooth and sliding to touch bodywork!

Do you really love your car? Treat it better with POLISH EXPRESS®!
Marley
The innovative and versatile glove in microfiber that thanks to its dual structure has one side to remove the most tenacious dirt without scratching the paint, while the second side was created specifically for optimal washing.
Fast & Black
This TYRE SPRAY POLISH arose from the direct request of the big tyre manufacturers. The market needed a new product, which was different from the others, for tyres used on grand tour cars or racing car tyres.
The features sought after by the manufacturer's technicians were particularly rapid use and long-lasting shine. Once applied, the product should not dirty the mechanics' hands.
FAST & BLACK was da MA-FRA's response to these particular needs. FAST & BLACK is a spray polish that is anti-static, practical and fast, non-greasy and non-sticky. It can withstand three washes, lasts a long time and protects and revives the original colour, while preserving the tyre from cracking and atmospheric and chemical agents.
Diamant Plast Shine
A new trend of MA-FRA flagship product that replaces Diamant Plast Classic, which was on the market for over 25 years. DIAMANT PLAST is a product which was and will be, due to the new formulation and graphic layout, a guarantee of success and quality; it contains 98% active principle and does not create, during vaporisation, the typical "smoke" effect inside the vehicle.

The application of DIAMANT PLAST SHINE guarantees an efficient and long-lasting anti-UVA filter on the treated parts, making the product also ideal to replenish and, particularly, preserve leather seats and inserts. Furthermore, it has excellent revival, polishing and covering powers and acts on the dashboard to leave an extraordinarily "shiny" effect. What's more, thanks to its new formulation, it removes all bad odours, even the most resistant, to make the interior of your car more inviting.
Splendorlega
The multi-awarded detergent for alloy and aluminium alloy wheels; if you are good at do-it-yourself, you must have washed you car and then grabbed a sponge to remove that dirt residue on the alloy wheels. The dust produced by the brake pads on the front is among the most difficult residue to remove using traditional means and this is why we developed SPLENDORLEGA, the revolutionary product for alloy wheel cleaning. SPLENDORLEGA is a detergent with major grease removal powers specifically studied to guarantee optimal results on any car or motorbike alloy wheel model, whether in magnesium, steel, aluminium or, naturally, plastic wheel hubcaps.
Even the oldest and hardest of dirt quickly dissolves under the powerful action. The effect of SPLENDORLEGA is immediate and its formulation – which is free of acids and caustic soda – ensures total preservation of the wheel without any risk of corrosion or abrasion.
Extra dry
SYNTHETIC, HIGH CAPACITY SUEDE CLOTH is a synthetic, suede cloth devised to help car or motorbike owners deal with the problem of perfectly drying the vehicle. EXTRA DRY is a cloth with a high absorption capacity and a high resistance to wear. Even after lots of washes and plenty of drying, the EXTRA DRY cloth perfectly removes all water residue from all vehicles without leaving streaks. For perfect, long-lasting performance, wash the EXTRA DRY cloth with soap and water before use. Do not wash using violent jets of boiling water and, after use, wring it out and leave to dry.